Still in beta! You can also browse all toolkits, and check out this blog post for more information about how we're organizing toolkits into types and disciplines.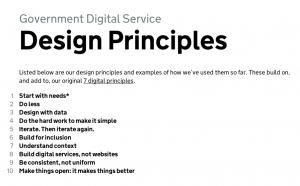 The United Kingdom government's design principles and examples of how they have been used. Each principle includes links to articles with additional explanation and reflections.
1. Start with user needs
2. Do less
3. Design with data
4. Do the hard work to make it simple
5. Iterate. Then iterate again
6. This is for everyone
7. Understand context
8. Build digital services, not websites
9. Be consistent, not uniform
10. Make things open: it makes things better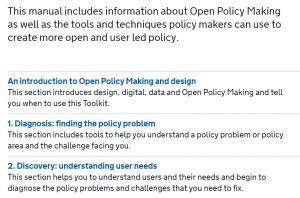 The publisher defines Open Policy Making as developing and delivering policy in a fast-paced and increasingly networked and digital world through collaborative approaches, new analytical techniques, and testing and iteratively improving policy.
The manual includes information about Open Policy Making in the United Kingdom government as well as tools, step-by-step guidance and techniques policy makers can use to create more open and user led policy.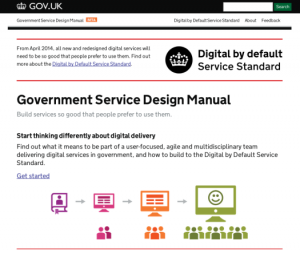 This resource is intended to support United Kingdom government teams create and run digital services according to their Digital Service Standard. It covers Accessibility and assisted digital, Agile delivery, Design, Measuring success, Service assessments and getting on GOV.UK, Technology, The team, and User research.