Still in beta! You can also browse all toolkits, and check out this blog post for more information about how we're organizing toolkits into types and disciplines.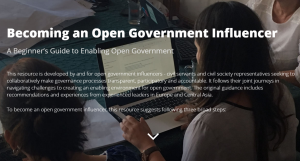 This resource is developed by and for open government influencers - civil servants and civil society representatives seeking to collaboratively make governance processes transparent, participatory and accountable. It is intended for those who want to be an open government influencer.
The original guidance includes recommendations and experiences from experienced leaders in Europe and Central Asia. It follows the publishers' joint journeys in navigating challenges to creating an enabling environment for open government. It was developed based in insights and lessons from those journeys.
The guidance follows three steps: 1) Reflect on constraints, build core competencies, 2) Identify and prioritise shared challenges; and 3) Develop processes for programs and policies
It contains step-by-step guidance for facilitating conversations as well as avoiding common pitfalls.