Still in beta! You can also browse all toolkits, and check out this blog post for more information about how we're organizing toolkits into types and disciplines.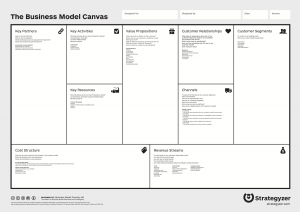 This canvas and associated guidance is is a strategic management and lean startup template that can be used the to describe, design, challenge, and pivot a business model to deliver different values or in different ways. It consists of 9 elements: value proposition, customer segments, customer relationships, channels, key partners, key resources, key activities, cost structure, and revenue streams.
It can be used individually or in a group. It works in conjunction with the Value Proposition Canvas and other strategic management and execution tools and processes.
This canvas has been widely used and many variations exist, including those adapted to a non-business context. When adapting to the public sector context, "customers" may be considered stakeholders or users and "revenue streams" may also include outcomes or impacts.
It was originally intended to provide a more nimble and understandable replacement for a business plan.