Still in beta! You can also browse all toolkits, and check out this blog post for more information about how we're organizing toolkits into types and disciplines.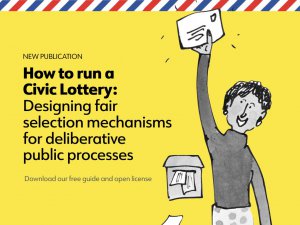 This step-by-step toolkit describes an inclusive approach to recruiting participants for public consultation or engagement processes. The publishers designed the Civic Lottery process to mitigate the shortcomings and distortions produced by traditional recruitment methods. The approach introduces randomization at multiple stages of the participant recruitment and selection
process. This toolkit is best for those who have decided that a reference panel is right for their situation (see the publishers associated toolkit on reference panels) and want to make sure that their selection process is fair and inclusive.
The toolkit was developed based on lessons learned by the publisher in deploying reference panels in Canada.

Reference Panels, also known as Citizens' Assemblies, Commissions and Juries, are an example of long-form deliberative processes that are frequently used by governments and public agencies to obtain detailed guidance on important and sometimes controversial policies.
Based on the publisher's experience with reference panels, they offer eight moves from their playbook to help others plan their own deliberative process.