Still in beta! You can also browse all toolkits, and check out this blog post for more information about how we're organizing toolkits into types and disciplines.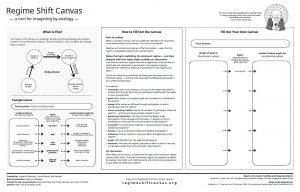 This canvas is a strategic design tool for developing descriptive models of transformative futures. It asks users to name the logics stabilizing the dominant regime — and then imagine how such logics might stabilize an alternative in terms of narratives, goals, core values, governance & practices, and physical inputs.
Requires email address in exchange for download.