Still in beta! You can also browse all toolkits, and check out this blog post for more information about how we're organizing toolkits into types and disciplines.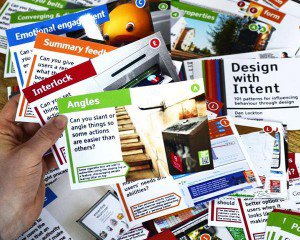 A collection of design patterns, or 'gambits', for influencing user behaviour through design. It's applicable across product, service, interaction and architectural design, aimed particularly at socially and environmentally beneficial behaviour change. The patterns are drawn from a range of disciplines, and are phrased as questions or provocations to enable the toolkit's use as both a brainstorming tool and a guide for exploring the field of design for behaviour change.
It includes cards, worksheets, and guidance, grouped into 8 lenses, which are disciplinary 'worldviews' or fields of research. A Brazilian Portuguese version is available. A how-to page provides tips for using the toolkit in a group facilitation setting.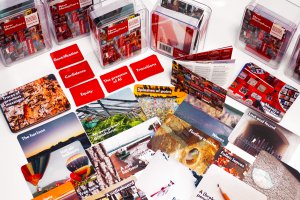 This resource is a generative tool for creating new metaphors to help understand the world in new ways, reframe problems, generate new ideas, and imagine different futures.
New Metaphors has been developed by the Imaginaries Lab, a design research studio based at Carnegie Mellon University, and working internationally. New Metaphors is a set of 150 cards and a number of simple, fun workshop formats which enable idea generation and new ways of thinking about issues creatively, from specific problems within an interaction design or UX team or organisational context. The entire resource, including cards, worksheets, and introduction booklet, can be downloaded and the website includes additional guidance as well as a metaphor auto-generator.
The publishers intend for this resource to be applied and used in real situations, whether by designers or by anyone looking to reframe ideas or generate new approaches.