Still in beta! You can also browse all toolkits, and check out this blog post for more information about how we're organizing toolkits into types and disciplines.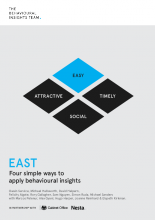 EAST is a framework and summary of the Behavioural Insights Team's knowledge of behavioural science, developed for busy policymakers. It is based around principles of making actions Easy, Attractive, Social and Timely (EAST) applied to a 4-step process: 1. Define the outcome, Understand the context, Build your intervention, and Test, learn, adapt.
It is a more simplified version of the publisher's prior MINDSPACE framework. The resource includes overall guidance and case studies.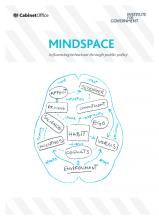 The MINDSPACE report is used by the Behavioural Insights Team as a framework to aid the application of behavioural science to the policymaking process. It is a predecessor of the more simplified EAST framework. It describes four actions that should underpin government"s attempts to change behaviour: Enable, Encourage, Engage and Exemplify. It includes a users guide for understanding what affects human behavior and describes the MINDSPACE framework through several case studies.