Still in beta! You can also browse all toolkits, and check out this blog post for more information about how we're organizing toolkits into types and disciplines.
This is one of the first collections of user experience methods. It describes and analyses user experience design methods by costs expended, time required, resources required, expertise required, and quality of data.

The Game of Life 2050 draws on scenarios for a sustainable European society in 2050. It is an interactive board game in which players consider four scenarios that describe the radical changes needed to be living within key environmental boundaries by 2050.
The game takes a minimum of 2 hours to run (ideally 4 hours) and involves 5-7 actors (each played by one person or in pairs) and one Games Master.
Play consists of three 'rounds' in which actors are given a set of circumstances that have unfolded at 10, 20 and 30 years into the timeline, and must decide from a range of options how they will respond.
Game materials and guidebook are both available for download.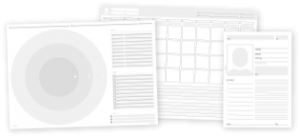 This set of service design resources includes a downloadable zip file of resources created by MrThinkr, such as templates, examples, and guidance on personas, journey mapping, and stakeholder mapping. The website contains video guidance on how to use these methods. In order to download the zip file, you must enter your email. The publisher is also marketing some paid software on their website.