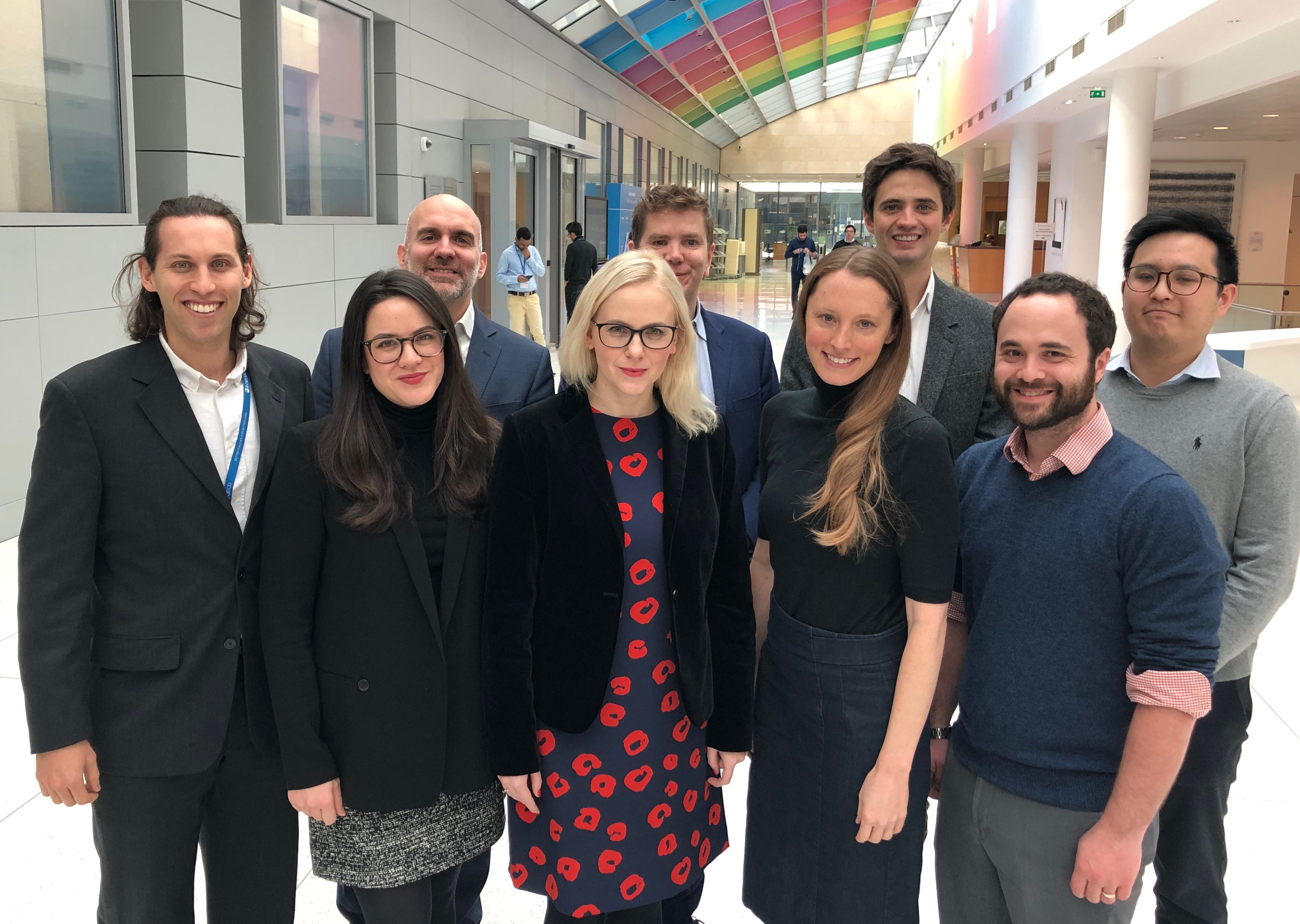 What we do
We uncover emerging practice and identify what's next, turn the new into the normal and provide trusted advice. We take a multi-level focus and our portfolio spans across individual, organisation, and system levels. We tailor our approach based on our partners' contexts and needs.
The dimensions of our work include:
Uncovering emerging practice and identify what's next, including:

Knowledge creation and learning enhancement
Innovation and technology trend-spotting
Empirics-led research

Turning the new into the normal:

Frameworks, skills, and methods diffusion
Convening networks of innovators
Global case study, tool, and community management

Providing trusted advice

Custom transformation strategies
Methods, skills and tools
Reviews and evaluation
Who we work with
Our partners are innovators everywhere: in government, academia, global NGOs and civil society, and industry. We connect with leaders and practitioners alike, based on their emergent needs and where we can best add value. Our partners are our collaborators; we take risks with them so that we can continue pushing the boundaries in this evolving area of research and practice. Are you ready to make change?
Who we are
The Observatory for Public Sector Innovation (OPSI) is a global forum for public sector innovation. In a time of increasing complexity, rapidly changing demands and considerable fiscal pressures, governments need to understand, test and embed new ways of doing things.
OPSI works with governments to understand and encourage new approaches to address society's complex problems by empowering public servants with new insights, knowledge, tools and connections to help them explore new possibilities.
We value curiosity, understanding of people's needs, a systems perspective and openness to new opportunities. From our innovation specialists' first-hand experience working in government, we know that an innovative public sector makes better policy, builds constructive partnerships and delivers better outcomes.
Since 2013, we have built our strong reputation on our expertise in global trends, sustainable development goals (SDGs), transformative technology impact, public sector innovation systems, and innovation skills, processes, and methods. Our team connects and convenes innovators world-wide and directly advises leaders of public sector innovation in OECD member countries and beyond.
Marco Daglio is the Deputy Head of the Public Sector Reform Division and Head of OPSI, a flagship initiative of the OECD to support and advice governments in making the most of innovative approaches to transform their public sector. Previously, he was Head of Unit in the same division in charge of public service delivery and public engagement. His last edited study "Promoting Innovation in the Public Sector" looks at the combined role of regulations, budget mechanisms, human resource management and organizational change to create space for innovation in the public sector. From 2005 to 2009, Marco has worked on several policy analyst positions at the OECD on digital government, fight against corruption, access to information and open government. Marco is a volley enthusiast (less so after spraining his ankle) and Juventus supporter. He can be found on Twitter at @DaglioM
Alex Roberts is an Innovation Specialist and deputy head of OPSI. Alex leads the work on the Observatory's studies of country public sector innovation systems, as well as contributing to the work on OPSI's innovation facets model and on the innovation lifecycle. Alex has long had a passion for innovation and how government can do things differently (and hopefully better). Before joining the Observatory, Alex worked in the Australian Public Service where he was one of the lead authors of the report Empowering Change: Fostering Innovation in the Australian Public Service (2010), supported the APS 200 project on public sector innovation which led to the 'APS Innovation Action Plan' (2011), and helped set-up, run and wind-down DesignGov, an experimental public sector innovation lab (2012-2013). Outside of work, Alex is interested in the Singularity, science fiction, trashy TV shows, and trundling about. Alex can be found on Twitter at @CaptainInnovate.
Jamie Berryhill is an Innovation Specialist at OPSI. His work includes surfacing and tracking innovation trends and conducting research on the intersection of innovation and digital government. Most recently, he co-authored a Blockchain guide and case studies for public servants. Prior to joining OECD, Jamie worked for the White House Office of Management and Budget (OMB) as the Chief of Policy for the United States Chief Information Officer. His portfolio included restructuring technology governance in agencies, devising new funding mechanisms for tech modernisation, and providing transparency through open data and open source policies and approaches. Prior to OMB, Jamie worked for the U.S. Government Accountability Office (GAO) to provide the U.S. Congress with data-driven reviews of fraud and abuse in government programs.
Angela Hanson is an Innovation Specialist at OPSI. She leads work around innovation methods, tools, and capacity-building. She is also the lead of the OPSI Toolkit Navigator, which guides public servants and policymakers toward resources relevant for their innovation portfolio and approach. Angela has been a public servant since she was born and has worked in multi-level administrations in the United States. Just prior to joining the OECD, Angela worked in the Office of Innovation at the City of Austin, Texas, where she focused on project-based capacity building, innovation challenges and prizes, Smart Cites ecosystem building, and innovative project teaming and resourcing. Prior to that, she served as the appointed Officer of Urban Forestry and Green Infrastructure for Austin, where she led multi-disciplinary teams for policy and strategic planning efforts. She has a passion for urban systems, narrative-based research and interventions, mountains, natural co-evolution, and psychogeography. She can be found on Twitter at @CivicCatalyst 
Laura Macías is a consultant at OPSI. She does research on trends in innovation in the public sector, manages the country-case study platform and coordinates OPSI's relations with innovation teams and governments in Latin America. She has experience working for Bcorps, NGOs and multilateral organizations mainly in development projects and policies in Latin America and Africa. Before the OECD, Laura worked for UNICEF in private partnerships, advocacy, and fundraising campaigns. She holds a Master in Public Affairs from the Institute d'études politiques de Paris and she is fellow from the Liderazgo por Bogotá program (a scholarship given to young professionals working on public policy) from the Universidad de los Andes in Colombia. She is very passionate about gender topics, especially those related to women's social and economic rights, and the fundamental role of diversity for innovation. Laura is also a ballet and jazz dancer. She can be found on twitter as @lmaciaslozano
Kevin Richman is an Innovation Specialist at OPSI. Kevin's primary focus is assisting governments to create sustainable innovation through improved individual and organisational innovation capacity and capabilities. Kevin works directly with leaders on organisational capabilities and sustainable innovation and with civil servants on building innovation skills and is working on reports around building organisational innovation capacity and innovative leadership. Kevin served 10 years in the US Government working on innovation, customer experience, leading people, data analytics and communications. Kevin is also on the advisory board for Young Government Leaders – a non-profit helping young leaders in the United States government build a community, develop professionally, and build resilience. When Kevin's not working, he's travelling, watching television, or playing football poorly.
Rebecca Santos is an Innovation Specialist at OPSI. Rebecca works on projects to investigate effectiveness in policy implementation and sector specific governance to foster innovation and learning. She leads the public consultation and engagement process on the OECD Declaration on Public Sector Innovation, a set of principles to which governments can adhere to better encourage a systems approach to innovation and manages strategic communications and engagement for the team. Prior to joining OPSI, Rebecca was a Senior Policy Advisor within the Australian New South Wales Department of Education. There, Rebecca managed education policy research, development, and the passage of national, strategic reform initiatives via the Council of Australian Governments, the country's peak intergovernmental forum.  Rebecca can be found on Twitter at @SantosBec
Dr. Piret Tõnurist leads the work on systems thinking, innovation measurement and anticipatory governance at OPSI. She coordinates OPSI's work on transformative innovations, innovation theory development and works directly with OECD member countries on their complex problems. Piret holds a research fellowship at the Ragnar Nurkse Department of Innovation and Governance, TalTech and she conducts research on a variety of topics such as innovation labs, co-production, digitalisation, machine-to-machine coordination and innovation policy management. She has previously advised the Parliament of Estonia and worked as a performance auditor for the State Audit Office in the field of innovation and entrepreneurial policy. She is an active proponent of purpose-driven change in the public sector and has collaborated with different governments, state-owned enterprises and innovation labs across the world. Piret holds a PhD and MA from TalTech in technology governance and MSc from KU Leuven in policy evaluation. She can be found on Twitter at @PiretTonurist
Kévin Kok Heang is an Innovation Researcher at OPSI. Kévin's interest is in the use of technology for economic development through cooperation on innovation policymaking. He is currently working on a primer on Artificial Intelligence tailored for the public sector and provide some assistance on the country study of Brazil. Kévin is pursuing a MSc in Public Sector Innovation and eGovernance at KU Leuven (Belgium), WWU Münster (Germany) and TalTech (Estonia) through the Erasmus Mundus programme with a focus on local eGovernment. Prior to joining OPSI, he also worked in the private sector and holds a Master in mechanical and industrial engineering from Arts et Métiers ParisTech (France).